Puerto Galera Resort with Swimming Pool
A pleasantly comfortable and homey resort surrounded by palm trees, beautifully handcrafted wood works and just a short walk away from the widely-visited White Beach Puerto Galera. Hollywood Palm Beach Hotel offers guests with a superb place to unwind and relax. If you have kids, we are one of a handful of Puerto Galera resort with a very captivating, intimate, and kid-friendly oval pool that allows guests to dip and refresh in its cool and relaxing waters.
Our resort is just a 3-minute leisure walk away from the famous White Beach. As such, enjoy your vacation basking in the sun on white sands & clear water during the day and enjoy amazing party life at night.
A Short Backstory
Hollywood White Beach Resort as told by "Mr. Hollywood"
A Quick Tour
Take a quick tour of our hotel rooms and amenities
Things To Do / places to visit in Puerto Galera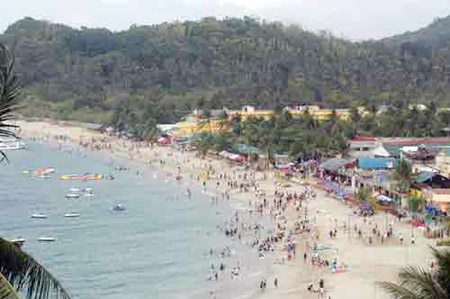 White Beach
Because of its close proximity to Metro Manila and its pristine white sand, White Beach in San Isidro, Puerto Galera has been a favorite tourist destination by Filipinos and foreigners alike.
Snorkeling
Snorkeling in Puerto Galera is one activity that you should not miss when visiting Oriental Mindoro. The captivating world of the undersea is simply fantastic. The vibrant colors and diversity of fishes and live corals is a pleasant view that will definitely fill your heart with delight.
Windmill Farm
With its wind turbines placed atop the mountains in Baclayan at almost 1,000 meters above sea level, the Puerto Galera Windmill Farm area offers a mejestic and almost surreal view of the whole town of Puerto Galera.
Infinity Farm
This awesome location is a series of waterfalls in a condensed relaxing atmosphere which is great for relaxing and having a nice meal with friends and family all while enjoying the serene sounds of rushing water and surrounding nature.

Visit Website
Guest Reviews
Jerryl V.
"Thank you Hollywood Palm Beach Resort. First class in every way. Rooms are spectacular, clean and perfect for a family of 6 or more. Staff are accommodating. The only resort in Puerto Galera with a pool. Facilities are first rate. We will definitely be back next Summer!!!"
Velz Family
"My little girl Savannah loves the pool. Enjoyed the place very much..the ambiance was so relaxing..perfect place for family vacation and rest. Food was good as well, bacon and crabstick pizza paired with orange flavored ice tea was my favorite during our stay."
Carlo M.
"I had a great time! Time and time again I've come to Hollywood Palm Beach Resort and it's always fun. The hotel is nice and spacious. Big open common spaces, lots of places to hang out by the pool or at the patio. The rooms clean with nice interior and the beds are comfortable.

Definitely one for the books!!! I will recommend this puerto galera resort to my family and friends and absolutely will be back soon!"